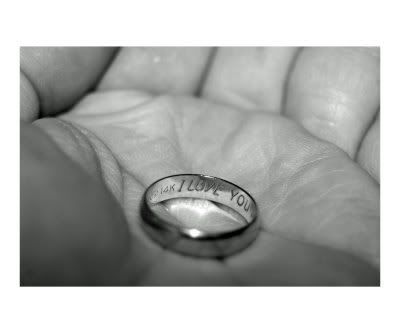 I really don't know how many people lose their wedding ring on daily basis, but my husband did just that yesterday... I'm not happy. And I will ask your opinion in the end of this blog tonight....
Let me just rewind how it happened. We have had some effect on Gustav here in the West Coast of Florida for the past few days, so my husband and I took our girls and went to see some good waves. My husband loves to surf, but because all his boards are still in Hawaii, he decided to bodysurf. After an hour of good session, he got our of the water, he ran to take shower and I knew something was wrong by looking at his face. I took my girls with me and went to see how he's doing.
Me: What's wrong?
Husband : ......... (he just keeps taking shower and shakes his head saying nothing)
Me: Wat's wrong? Don't tell me nothing because I know something's wrong.
Husband : Nothing..... (and he keeps taking shower)
Me : Oh, come on... What happened? Is everything okay?
He stopped the water and grabbed me and hugged me so tightly I started laughing. And he said "I'm so sorry, I lost my ring....."
I stopped and looked at his left hand. His ring finger is intact without the wedding ring. I was speechless. He explained to me that as he was catching the last and the biggest wave of the day, he could feel the ring was coming off, so he tried to grabbed it, but it was too late. It was GONE!!!!
He kept saying "I'm sorry, I'll replace it," but to me even he buys the same ring, it wouldn't be the same; it wouldn't hold the same meaning. We took our vows and married with those rings. He can't just buy the same ring and think everything is going to be okay. I know he didn't do it on purpose and I'm fully aware that it was an accident. But what a shocker..
My husband has been very quiet since that happened. He looked in my eyes as we drove home and said, "I honestly am feeling sick to my stomach..." The ring is just a representation of who we are as a husband and a wife, but it does take away something that we both have cherished when it's gone... We don't know what he should do; just replace it or wait for another four years for our 10th anniversary and married again... What do you think? What should we do?????