Just so you know, if you can't clean after your dog, please don't even think about getting a dog. And if you insist on leaving your dog's precious behind without picking it up, then please take your dog and let him or her shit in front of YOUR HOUSE.
This is not an attack on responsible dog owners who take their lovely puppies for a walk with poopy bag in hands. I love animals that includes dog. But I hate those inconsiderate assholes who think it's okay to let their dogs poop wherever they please. If they can't pick it up, they don't even have the right to own a dog. Am I wrong of saying this or what???
Well, I've seen these pile of shits on the grass by our parking lot. I first saw it three days ago. I was like "Damn, I hate this...," Then the next day, another poop sitting next to the old one. I could totally tell it came from the same dog by observing the size. Then again yesterday, I see another one, this time a few feet away from the old ones, but I know they are all from the same dog = same owner!!!!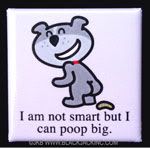 Then today, my two girls were playing outside with their daddy and I. My daughters were running and playing with a ball on the grass when I saw something nearby. "Girls! " I shouted. "Don't move! Freeze!" I said it again... I had to move closer to the brown object to make sure it was a bomb. And yes, it was.
Our condo's management even put those poop baggy stands and trash baskets all over the place which wouldn't let those dog owners say, "oh we forgot to bring the bag.." I just don't understand their thinking. How could you just watch your dog take shits and leave it as is???
My oldest Ju-Ju said, "Oh, those people are so rude, Mama. I can clean myself. I flush my poopy!" Yeah, that's right. Even the four year old knows what's right and wrong, why can't others who are adults??? All you need to do is to bend your knees and reach your hand to the objects with a bag and grab it. Simple. If the smell is bothering you, then hold your breath!!
I know I'm ranting here and I'm sorry.. But I'm getting fed up with it. Please curb your dogs or else, I will curb your asses to the pole!!!!