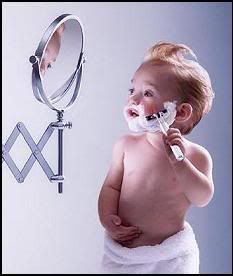 So you know, when you work at a beauty salon as a receptionist, there are ton of phone calls and ladies to deal with. But what I have learned from working at my new job is that women are not the only ones who want to be and feel pretty. Men do, too!!!
Today was my second day at the new job. The first customer who walked in this morning was 70 year old man to get pedicure!!! And I'm not kidding!
He was a tall old man (

sorry, but he was not young!)

with glasses and I thought maybe, just maybe he came to make an apppointment or buy a gift card for his wife. But no, Sir, he wanted his feet to feel pretty!
Me: Good morning. How can I help you this morning?Old Man: Oh yes, I would like to get pedicure, please..Me: Oh! Oh! Sure, sure.... (

I'm in shock as I book him with a technitian.

)Old Man: And I want Delux Pedicure..Me: Sure thing (

I am dying because I want to laugh and scream so hard!

)
When he was done, he was all happy and smiley. He came to my front table to pay and he said,
"Oh it is a great feeling..."
I said to him, "Oh that's great to hear. I'm glad you enjoyed it." (
I gave him a HUGE smile.
)
He said, "I'll be back again!" and waved goodbye....
Then, I got a call from this lady that she wants to make an appointment for her facial and nail. As I try to book her, she told me she wants to make an appointment for her husband as well.
Lady: Oh, by the way, if there is any available space, I want my husband to get pedicure, too.Me: Let me check.. Hold please.. (

I'm laughing again as I check the computer screen

)Lady: (

I hear the lady talking to the hubby

) Honey, do you want manicure, too??Hubby: No.. Just pedicure..Me: LOL....
We had three male customers today, they're in 70's, 50's and 40's.... There is nothing wrong with "metrosexual", but honestly they didn't even look like they'e metrosexual. But I could say they just love the feeling of being taking care of??? I respect all those men who marched in to our salon with smile on their faces because some men do avoid situation like that at all cost.
Actually, I have told my hubby to get pedicure, me and him together before.. It feels good and men should also emjoy pampering themselves. It's okay, it's just pedicure.
Tomorrow, we are welcoming "Firefighter R..."
I can't say his real name here, but apparently, one of our regular customers had bought him a gift card and he'll make a guest appearance at our store to get nail and facial done. And he is a firefighter.
On a happy note, my husband brought our daughters to work today to surprise me... They were so fasinated by the number of nail polish on the wall. Everybody was screaming and said to me how precious my girls were and my boss told them they could get pedicure for being so cute!!!!
I can't describe the joy on my daughters faces. Their face lip up instantly and they were smiling while they're getting their nails done (

and they are only 2 and 4, my friends...

)
It's been rough being apart from my girls, but I would cherish all the kind words from all of you and try to think positive.
Thank you so much for all your warm and kind words....
xoxo