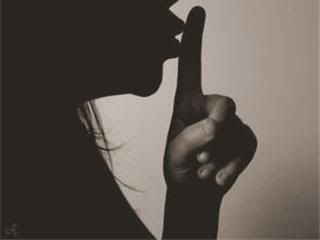 Well, many of my old readers know that I have a noisy neighbor upstairs. She is pretty famous among my old readers and I talked about her
here
and
here
.
Well, some miracle happened, everybody!!! No, she hasn't moved yet. But she has been awfully queit. Isn't that great???
She was in Miami again for about a month and came back right after Thanksgiving. I was so dreaded. I honestly thought that my holidays are sure to be ruined. But one night she didn't make any noise even when I knew she was home. It turned out her son was visiting her. I saw her outside of our condo and she said "hello" to me. She was really nice and friendly - Miracle #1. We talked and she was on the way to drive her son to the airport. I asked when will she go back to Miami and she said end of January. Big sigh.
Then JT and I spotted a blue Yamaha motorcycle in the same parking spot where she parks her car a few days later. We were like, "Oh, new boyfriend... Now how long will it last??" We were betting that it would last a week because she was a serial dater.
To tell you the truth though, when we first time saw his blue motorcycle, my husband and I liked the idea that this guy has enough respect for others to park his ride in her parking stall (
they double park in her stall
) and not having to take someone else's parking spot even where we have plenty empty spots. I thought that he was another guy that she brings home to just kill time.
Well, my dear readers, I must say, we were wrong.
Ever since we started seeing this blue Yamaha, she is staying home with him. He goes to work in the morning and comes home early in the evening. And I don't hear her coming home late in the morning at 3am drunk or arguing or throwing a party - Miracle #2! I am thinking she makes enough money in Miami that she doesn't have to work when she comes back to town.
She does still play loud music, but as long as it stops before 9:30pm, we are okay with it.
Now, JT and my conversation the other day went like this:
Me: "So, JT, don't you think she's been really queit ever since the Yamaha guy showed up?"
JT: "I KNOW! I LOVE THIS GUY!"
Me: "Right? Right?"
JT: "Have you seen the guy?"
Me: "No.. but I must say he is doing something great for her and us!!"
JT: "I can't believe she can be this quiet...."
Even now, it's really quiet upstairs. It's almost scary. We may be louder than upstairs - wouldn't that be funny? LOL.
I remember someone said that maybe only thing she needs is someone who is special enough to tame her wildness or someone that she can fall in love with. And it may be true... Really true.
Everyone, you don't even know how grateful I am and my family are for this new boyfriend of hers. I look up the ceiling every night when I go to bed, thanking him, "Thank you! Thank you soooo much!" Now, I'm knocking on wood and praying that they stay together as long as she is living upstairs. I would like to meet him in person and shake his hand.
So, there you have it. 2009 is looking good so far!