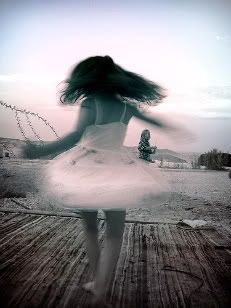 Today is my SITS day! I received a letter from Heather over at
The Secret Is In The Sauce
last week that my turn will be soon. I've waited and waited for so long, I can't believe the day is here. I am doing my favorite Happy Dance! Whooo Hooo!!! I am so excited that I get to meet new fellow bloggers - Welcome, Ladies from SITS and my dear readers, old and new!! I hope you'll stick around for today's story.
So, I went to work today (actually it is yesterday because it's early Tuesday morning now) and it was kind of a difficult day for me. (For the people who read my blog for the first time today, I am a receptionist at a salon.) I was looking at the computer screen and checking to see what our appointments will be like tomorrow. The front door opened up and a lady came in. She said she wanted to get pedicure and manicure. I didn't see her face clearly at first, but as she approached the desk, my heart sunk. Her face was badly burned. I tried not to show any expression, but I was crying inside. It is none of my business, I know. Pity is probably the last thing the lady would want from me. I smiled and took her name and brought her to the spa chair. I asked her if she wanted to drink something, but she said, "No, I'm fine." She smiled and thanked me.
An hour later, the nail tech who did the lady's nail gave me the ticket and ran to the back room. I asked the lady if everything was good and she said, "Oh it was great, thank you." She left the salon with a smile. I went to the back room and there I found my co-worker sobbing. She said it was too painful for her to see the customer's face and she couldn't take it. I gave her a big hug and I could only say it's okay to cry...
After I came back to the front desk, I thought about my friend in Japan who got married a long time ago. My friend and her fiance was set to get married, but six months before their wedding, the fiance got in a huge car accident and was severely injured. It was so horrible that his face was unrecognaizable.
She was not sure if she could be with him. She was having tough time looking at his face and it was really, really painful for her to see him like that. You love someone and you think you'd spend the rest of your life with him. But sometimes, things that are out of your control happen and it could change your life. She was honest about it. Then one day, he told her that she should be with someone else. She deserves better than him.
That's when she realized that she wanted to spend the rest of her life with him. She knew right then she can't be with anyone else, but him. Fianlly, what he looked like on the outside didn't matter to her. She was able to see what was under his skin, the guy she fell in love with. They are still together, happily married.
I can't deny that the day like today will stay on my mind for a long time. It sinks deeply in my heart. But I think when I meet people like today's client and realize they have the courage to live their lives as normal as they can and move forward, what I can do at least is to see them for who they are without feeling sorry for them. It's tough and hard, but I want to smile and look in their eyes when I say, "Hello!"
My question today: What would you feel and do when you encounter a situation like today at my work?
Have a wonderful Wednesday, everybody!!!
xoxo