I was on the computer this morning (Sat morning) when my little Soapy came running and hugged me. She looked up, smiled and said, "Mommy~, I luv you~~~~~." How do I get so lucky for being loved by just being on the computer??
I told her I love her and hugged her back. I hugged and hugged and hugged and thought, "Gosh, I can't hug her strong enough..."
When I hug my daughters, I hug them really strong and tight. I may be hurting them by doing so. I feel like I want to let them know that their mommy loves them. But I always feels like it's never enough and strong enough. Or I say that I love them, but I feel lke they'll never understand how much, how deeply I love them. You know the song, "More Than Words" - it's kind of cheesy, but words can't describe what I feel inside, how much I cherish and love my daughters.
Now I know how my mother feels about me and my sisiter T. My mom has this unconditional love which my sister and I often took advantage of (
not in the bad way, but very spoilish way
). I just want to be like my mother who has showed what true LOVE is and how to be a good mother. I would be happy if I am able to take care of my daughters like how my mom has taken care of me and my sister = my girls will grow up to be just as special as me and my sister. LOL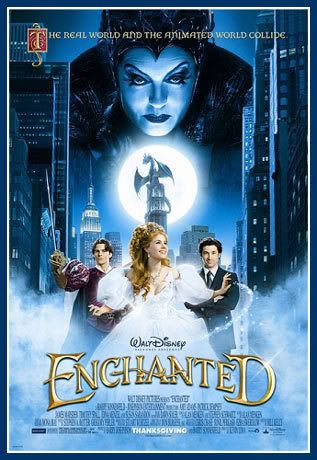 By the way, JT found the movie "Enchanted" was going to be on Stars tonight (Sat night). It's my daughters's FAVORITE movie.
JT: "Girls, guess what's gonna be on tonight!?"
Ju & Soap: "What Daddy?"
JT: "Enchanted!!"
Ju & Soap: "REALLY!???"
JT: "You wanna watch it with Daddy?"
Ju & Soap: Yaaaaaayyy!!!
Everyone, we have "Enchanted" on DVD (
Thanks to Uncle D!
). We can watch it whenever we want. But everytime it's on cable, JT finds it and watches it with the girls. As much as our daughters and I love the movie, my husband loves it, too.
"Enchanted" was my first date movie with my oldest Ju Ju. Me and Ju Ju went to the movie theatre for the first time last year alone and this movie was perfect for us. I truly enjoyed it (probably more than Ju Ju at the time) and I was amazed how well the movie was done. Have you seen it???
Here is the clip; one of my favorite parts of the movie. When I first time saw this scene, I cried like a baby. Julia wanted to know what was wrong with her mommy, so I told her the movie was so beautiful that made mommy cry. I guess it's fair to say I suffer from Princess syndrome. But don't we all dream to be a princess once in our lifetime? My girls also dance to this music every single time. And, funny thing is this song is the ringtone for my mom when she calls.
Do you believe in Fairytale?
Hope your weekend is filled with love and magic!!