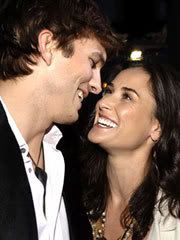 Another Hollywood Couple whose wife is a lot older than husband
.
The news at my salon this week is that my co-worker (
another receptionist
) C's mom got married. It's nice to know that C's mom found a new love at the age of 54. Everybody was so happy for C's mom and excited for C. But there is a little twist to the love story. C's stepdad is 37. Yes, you read me right. C's mom is 54 and her new husband is 37.
37!!!
The guy is 17 years younger than C's mom. It's been funny experience for me to see all our client who are often older ladies go Goo Goo Gaa Gaa over C's mom's marriage. I bet they are jealous.
When C told me about her mom getting married, she was honestly happy for her mom. She said as long as the man treats her mom right and makes her happy, it doesn't bother her that her mom is marrying such a younger man. C said that her mom looks younger than her age and mom's new husband looks older than 37, so it evens out... Okay.... She often jokes, "I call him Daddy just to tease him." C is 27, so she could never call him Daddy for real.
I am a firm believer of love coquers everything. As long as you love one another, nothing matters. It's great that C's mom got it going and went for it. A lot of people including myself would hesitate marrying a guy who is 17 younger than her age. Wouldn't you??
Then, I thought about a post I did a while back. It's about these high school kids thought that I was hot. I am 35 and they are like 16 - 17.. Now I know I could never be with anyone who is so young (
and oh, I'm already married, so I don't qualify for marrying another man, do I?
), but it's interesting that some men do attracted to older lady. If you want to know what happened,
read this post
.
What about you beautiful? Would you like young boy or older man? If there is any male reader, would you like to date older woman? Also, what is the age limit for the guy you date? Mine would be: I could probably date 9 years senior or 8 years younger... My husband is 8 years older than me and thank God he looks young and acts young.
Hope you're having a great Sunday!!!